LIKE WEBLYF.COM ON FACEBOOK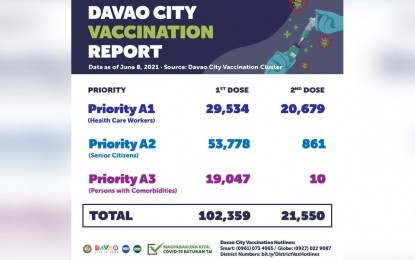 (Photo from City Government of Davao Facebook page)
DAVAO CITY – The city government here has so far vaccinated some 102,357 Dabawenyos against the coronavirus disease 2019 (Covid-19).
In a Facebook post on Wednesday, it said some 21,550 residents, already received their second dose as of June 8.
For the A1 (medical front-liners) sector, a total of 29,534 received their first dose while 20,679 got their second dose.
For A2 (senior citizens), a total of 53,778 were vaccinated for the first dose while 861 for the second dose.
A total of 19,047 vaccines were administered to A3 members (persons with comorbidities) for the first dose while 10 for the second dose.
With the alarming rise in Covid-19 cases, the city government has strongly discouraged 'walk-ins' at any vaccination sites.
It said the long wait and crowding at vaccination areas might put the Dabawenyos at risk of being infected.
"Please coordinate with your District Health Offices for the schedule of your vaccination," the announcement added.
On Tuesday, a total of 44,800 doses of Sinovac vaccines arrived at the Davao International Airport intended for this city and Davao Oriental. (PNA)