LIKE WEBLYF.COM ON FACEBOOK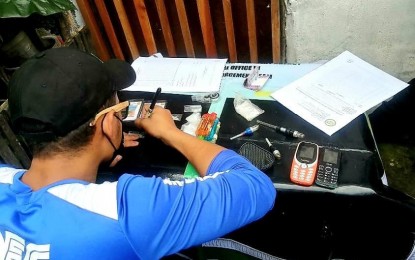 BUSTED. An agent of the Philippine Drug Enforcement Agency-Western Visayas Special Enforcement Team conducts an inventory of the suspected shabu and other items seized in a raid of a drug den in Barangay 27, Bacolod City on Monday (Feb. 22, 2021). Eight persons were arrested, among them suspected drug den maintainer Rigor Diaz. (Photo courtesy of PDEA Western Visayas)
BACOLOD CITY – Eight persons were arrested in a buy-bust conducted by agents of the Philippine Drug Enforcement Agency-Western Visayas (PDEA-6) Special Enforcement Team in a drug den at Purok Cheriza II, Barangay 27 here on Monday afternoon.
A report from PDEA-6 identified the suspects as Rigor Diaz, the suspected drug den maintainer, as well as his alleged customers Rona Rose Calabon, Jonathan Aguillon, Romeo Legaspi, Michael Millendez, Samuel Baustista, Niño Sulitas, and John Harven Delfin.
The PDEA agent who led the operation told the Philippine News Agency (PNA) they are set to file cases against the suspects before the City Prosecutor's Office on Tuesday.
Those arrested will be charged with violation of Section 26 in relation to Section 5 (sale of dangerous drugs), Section 6 (maintenance of a den), Section 7 (employees and visitors of a den), Section 11 (possession of dangerous drugs) and Section 12 (possession of equipment and other paraphernalia for dangerous drugs) of Republic Act 9165 or the Comprehensive Dangerous Drugs Act of 2002.
PDEA report said they monitored the activities of Diaz, considered a high-value target, for about a month before they proceeded with the buy-bust and eventually arrested him.
During the operation at 2 p.m., operatives seized about 12 grams of suspected shabu valued at PHP81,600 along with other evidence such as plastic sachets with shabu residue, improvised tooters, assorted disposable lighters, and the buy-bust money.
This is the second drug den in Bacolod dismantled by the PDEA this month.
On Feb. 7, agents of PDEA-Negros Occidental Provincial Office arrested nine persons, including drug den maintainer Ramil Infante, in Barangay Singcang-Airport.
The eight others apprehended were Sunshine Naingue, Evalyn Jauod, Joel Benjamin, Stephen Dalia, Rodel Espuerta, John Lyn Gumata, Jake Pitalla and Jobert Apel.
Operatives recovered 14 sachets of shabu weighing about eight grams as well as improvised tooters, several plastic sachets with shabu residue, improvised kerosene lamp, scissors, assorted disposable lighters, and the buy-bust money. (PNA)