LIKE WEBLYF.COM ON FACEBOOK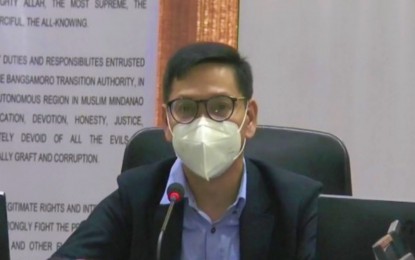 Minister Naguib Sinarimbo of the Ministry of the Interior and Local Government – Bangsamoro Autonomous Region in Muslim Mindanao (Photo courtesy of Bangsamoro Information Office - BARMM)
COTABATO CITY – Final preparations are underway to hold the first-ever Bangsamoro Governance Summit here on Friday.
In an interview here Thursday, lawyer Naguib Sinarimbo, interior minister of the Bangsamoro Autonomous Region in Muslim Mindanao (BARMM) and concurrent regional spokesperson, said local chief executives from across the region are expected to attend the event under strict health protocols.
"The threat of coronavirus disease (Covid-19) persists so we have to come up with the stringent protocols," Sinarimbo said, adding that those attending the summit will have to present documents showing they are fully vaccinated.
He advised participants without vaccination to submit themselves to reverse transcription-polymerase chain reaction tests before they will be permitted entry.
"The same protocol is also being required to members of the media who would cover the summit," he said.
Expected guests and participants to the summit include Senator Juan Miguel Zubiri and the governors of the five province components of the BARMM, among others.
Sinarimbo said physical distancing will be observed at the venue of the 400-seater Shariff Kabunsuan convention center inside the BARMM compound here with a two-meter seating arrangement apart for the participants.
Before the event, Sinarimbo said a series of pre-summit meetings were held for the BARMM provinces of Maguindanao, Lanao del Sur, Sulu, Basilan, and Tawi-Tawi.
During the pre-summit meetings, the local government units (LGUs) presented their proposed programs and projects for inclusion in the region's priority Projects Program Activities (PPAs) for the fiscal year (FY) 2022.
"The LGUs' proposed priority projects and programs for FY 2022 were consolidated and deliberated, and the output will be presented in the governance summit," Sinarimbo said.
Also up for discussion is the current response of the region against Covid-19.
"We are all aware of the existence of the Delta Covid-19 variant and we must also prepare the region against it," he said.
Sinarimbo said Friday's summit aims to further foster unity among the LGUs in implementing the different programs for the benefit of the people in the region.
BAMM covers the cities of Marawi, Lamitan, and Cotabato; the provinces of Maguindanao, Lanao del Sur, Sulu, Basilan, and Tawi-Tawi; and also the 63 villages in six towns of North Cotabato. (PNA)