LIKE WEBLYF.COM ON FACEBOOK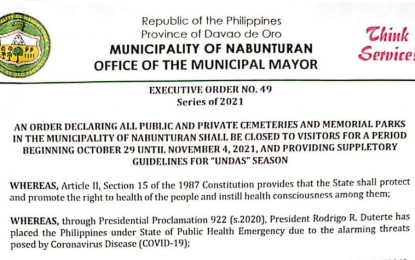 DAVAO CITY – Nabunturan town in Davao de Oro on Tuesday ordered the closure of all public and private cemeteries and memorial parks for visitors from October 29 to November 4.
Mayor Chelita Amatong signed Executive Order (EO) No. 49, saying residents should follow the schedule of visitation, the use of the StaySafe App, and the Undas Pass in visiting the public cemetery to fully implement social distancing.
The EO added that the Nabunturan Covid-19 Crisis Team has foreseen the need to further restrict mass gatherings in cemeteries, memorial parks, including columbaria, to prevent super spreader events and observe the minimum public health standards during the "Undas" Season.
"Recent Covid-19 patient timelines and contact tracing revealed that mass gatherings and personal/family milestones are a contributory factor in identifying and tracing increased numbers of close contacts of Covid-19 positive individuals," it said.
Amatong said in the EO that in all cemeteries and memorial parks in the municipality, the number of visitors shall be limited to a maximum of 30 percent of the venue capacity, with the wearing of face masks and face shields and the observance of social distancing being strongly encouraged.
"Beginning October 12 up to 28, 2021, there shall be a Schedule of Visitation in the Nabunturan Public Cemetery at Purok 14, Poblacion to further limit the number of individuals entering the area and to further promote the observance of minimum public health standards," the EO added.
Senior citizens (aged 60 years and above) and minors (18 years old and below) are not allowed to enter the Nabunturan Public Cemetery during the said period.
Amatong said residents should secure an Undas Pass 2021 from their respective barangays to be allowed entry to the Nabunturan Public Cemetery.
"The Undas Pass shall cover only three members of the household," the EO added. (PNA)