LIKE WEBLYF.COM ON FACEBOOK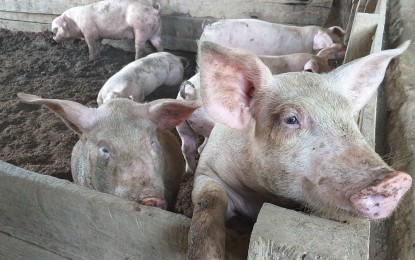 MANILA – In a bid to further boost the pork supply in the country, the government is considering granting a 50-percent insurance subsidy for commercial hog raisers, Cabinet Secretary Karlo Nograles said on Tuesday.
The proposal was pitched during a Cabinet meeting led by President Rodrigo Duterte on Monday, Nograles said in a virtual press conference.
Nograles said the subsidy would be sourced from the Department of Agriculture's Quick Response Fund (QRF).
"One proposal being studied is an insurance subsidy of 50 percent for commercial hog raisers that utilize the quick response fund under the QRF of the Department of Agriculture. This is just one initiative being considered to help our hog farmers increase supply," he said.
Following the adverse impact of African swine fever (ASF) on the swine industry, Senator Francis Pangilinan on Feb. 19 called on the government to provide insurance to hog raisers.
In January, Agriculture Secretary William Dar urged backyard and commercial hog raisers to avail of insurance packages to help them recover from the effects of ASF.
The DA's Philippine Crop Insurance Corporation, the sole government agricultural insurance firm in the country, included ASF among the risks covered by its livestock insurance as early as 2019.
It grants insurance amounting to PHP10,000 per head of swine, on a premium payment of only 2.25 percent or PHP225, according to the statement posted by DA on its official website.
On the other hand, small backyard hog raisers listed in the Registry System for Basic Sectors in Agriculture are given free insurance.
The insurance coverage is on top of the PHP5,000 worth of ASF indemnification claim for eligible beneficiaries.
The government continues to undertake measures to address the low supply and rising prices of pork products in the country, especially in Metro Manila.
The Inter-Agency Task Force for the Management of Emerging Infectious Diseases on Jan. 28 approved the designation of special hog lanes to ensure the unhampered shipment of pork products from Luzon.
Duterte on Feb. 1 also inked Executive Order 124, imposing a price ceiling of PHP270 per kilo for pork kasim and pigue, PHP300 per kilo for pork liempo, and PHP160 per kilo for dressed chicken.
Malacañang likewise announced on Feb. 17 that the government would allow the importation of pork products from abroad, in case the supply remains insufficient.
The DA is scheduled to hold a food security summit with local government units and the private sector to craft a plan on how to ensure food security in the country amid the coronavirus disease 2019 pandemic. (PNA)