LIKE WEBLYF.COM ON FACEBOOK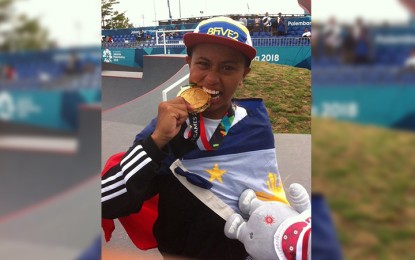 Skateboarding champion Margielyn Didal (File photo)
MANILA – Skateboarder Margielyn Didal became the 10th Filipino athlete to qualify for the Tokyo Olympics after World Skate, the international sports association for skateboarding and other roller sports, released the latest world rankings.
Didal maintained her number 13 ranking in the women's street category despite missing out on a finals berth in the Street World Championships in Rome last week, well within the Top 20 cutoff.
The Skateboarding and Roller Sports Association of the Philippines or simply Skate Pilipinas was the first to break the news on Saturday after Didal's stint in the said event's semifinals.
The reigning Southeast Asian (SEA) Games champ is the only female from the Asean region to qualify outright in the women's street tournament of the inaugural Olympic skateboarding event through the world rankings.
Didal, also the reigning Asian Games champion, will be facing three Japanese skaters, including world number three Aori Nishimura and world number five Momiji Nishiya.
Didal will also have some tough competition from Brazil in Pamela Rosa and Rayssa Leal, the top two female street skateboarders right now, as well as world number four Leticia Bufoni.
Barring sudden adjustments due to Japan currently experiencing a surge in the coronavirus disease 2019 cases, the Olympic street skateboarding event is scheduled on July 25 to 26. (PNA)