LIKE WEBLYF.COM ON FACEBOOK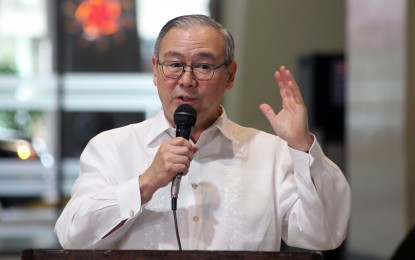 Foreign Affairs Secretary Teodoro Locsin Jr. (File photo)
MANILA – The Philippines and China celebrated 46 years of bilateral ties on Wednesday, with Foreign Affairs Secretary Teodoro Locsin Jr. touting the "unbreakable ties" between the Filipino and Chinese people.
In a message during a virtual conference hosted by the Federation of Filipino Chinese Chambers Of Commerce & Industry, Inc. (FFCCCII), Locsin underscored that there are highs and lows in the two nations' relations "but still, through it all, we come through."
"I am confident that the abiding trust and goodwill of our countries nurtured through the years will bear much fruit in the years ahead," he said.
"As in the old days, when we broke through barriers one after another, in language, culture, and beliefs, I have faith that we will once again overcome our differences. That faith has its deep foundations down to the bone of shared blood and life stories," he added.
Chinese State Councilor and Foreign Minister Wang Yi, meanwhile, vowed to work with Locsin to "fully implement" the consensus reached between the two leaders, particularly on pandemic response.
Comprehensive strategic cooperation
Beijing and Manila's ties have steadily improved in the past few years, which Chinese Ambassador Huang Xilian described as a shift to a "relationship of comprehensive strategic cooperation".
Huang said Presidents Rodrigo Duterte and Xi Jinping have met face-to-face eight times, drawing up strategic blueprints for the continuous development of China-Philippines diplomatic ties.
After the Covid-19 outbreak, the two leaders continued to engage closely in "cloud diplomacy" through phone calls and letters.
He added that practical cooperation between the two nations has also made "remarkable progress," citing the 12 completed government-to-government cooperation projects and 17 other initiatives.
Huang, on the other hand, stressed that even the closest of friends have differences and that the South China Sea issue is "neither the keynote nor the sum total of our bilateral relations".
"The two sides should, by no means, allow this single dispute to derail the overall relations. Under the guidance of our two leaders, China and the Philippines have been dedicated to managing differences through friendly dialogues and consultations," he said.
A Bilateral Consultation Mechanism (BCM) has been established between the two governments as a way to enhance mutual trust and exchange views on a wide range of issues, including the sea row.
Huang is optimistic that the two nations could forge an "even closer" relations, saying that "true friendship would withstand the test of time".
"Standing at the historical crossroads, though faced with global challenges such as the changing international situation and Covid-19 pandemic, we have every reason to believe that, under the leadership of President Xi Jinping and President Duterte and with the concerted efforts from both governments and peoples, the two countries will forge an even closer China-Philippines comprehensive strategic cooperative relationship in the new era, and our friendship would shine brighter in the tempering of time," he said. (PNA)