LIKE WEBLYF.COM ON FACEBOOK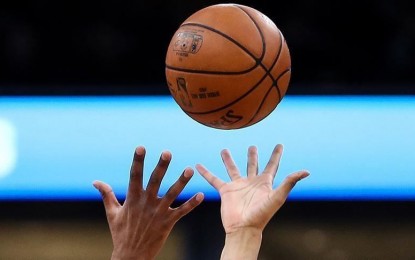 (Anadolu photo)
MANILA – Talisay made the most of a Mandaue off night to pull off a 77-57 blowout in the nightcap of the Pilipinas VisMin Super Cup triple-header at the Alcantara Civic Center on Tuesday.
The MJAS Zenith-backed Talisay squad held the KCS-powered Mandaue to just 11 first-quarter points to set up the rout, as coach Aldrin Morante exactly told his boys before the game.
"Kailangan namin mag-focus kasi malakas ang KCS (We need to focus because KCS is strong)," he said. "Hindi kami magkumpyansa sa kanila and good start ang kailangan (We should not get overconfident and we need a good start)."
Jaymar Gimpayan put up what would be his best performance yet, going 11-of-13 from the field for 25 points with 10 rebounds, one assist, and one block.
"Super ganda ng ginawa nya (What he did was super splendid)," Morante added. "Dino-doble ang big man namin and siya 'yung palaging nasa saktong lugar (Our big men got double-teamed and he was there at the right place)."
Val Acuna added 12 points, two rebounds, and two steals as Talisay joins Lapu-Lapu on top of the Visayas leg team standings at 2-0.
Paulo Hubalde flirted with a triple-double after finishing with eight points, nine rebounds, and eight assists with one steal.
Alfrancis Tamsi made 18 points, four rebounds, and one steal off the bench for Mandaue, which was held to only 28 percent field goals, including a 13 percent clip from long range.
Earlier in the night, Tabogon got its first win of the leg after nosing out Tubigon, 102-99.
Arvie Bringas put up 24 points, including the eventual winning basket that broke a 99-all deadlock with 56 seconds left.
Exactly as mapped by Voyagers coach Expedito delos Santos, Bringas barreled his way inside for the layup that put them ahead.
"The plan was to go in the post because we noticed that they couldn't stop him," delos Santos said.
Jethro Sombero then pulled off a huge defensive gem after stealing a Joseph Marquez, leading to two free throws from Joemari Lacastesantos.
Lacastesantos, however, kept the room open for the Mariners to force overtime as he only made a split from the charity stripe.
Mac Montilla tried to score the equalizer but he missed two three-pointers before the final buzzer and let Tabogon escape.
Bringas went 10-for-17 from the field even as he also had eight rebounds and one steal for Tabogon, which is now tied with Siquijor, and eventually Mandaue 1-1, to the delight of delos Santos.
"Masaya ako kasi (I'm happy because) he's one of the veterans of the group," delos Santos said.
Sombero added a double-double of 15 points and 14 rebounds with one assist and one steal.
Marquez went 10-for-11 from the field, making a perfect 9-for-9 from the two-point region for 22 points with nine rebounds, eight assists, and two steals for Dumaguete, which fell to 0-2. (PNA)